It all begins with a place….
Growing up in the North (New Jersey to be precise) basements were the pace you hung out as a child, as a teen and as an adult.
Moving to SC, I found basements where not usually "standard issue" in a home.
Our house has a loft overlooking our great room.  Over the years, this loft area was used for:
Game room (with pool table),
Play room for the kids,
Computer workstations,
Sewing room,
Exercise room (ok…an attempt was made at a room, wherein people would exercise… let's leave it at that and no one gets hurt..)
Recently, it had "devolved" into…
"The Land of Misfit Toys".
Here are some pics of the "before":
Pic 1: Looking across the loft (the greatroom is over the railing to your left). Stairs up to another bedroom.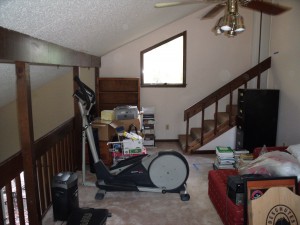 Pic 2: Looking back towards the wall. As you can see, lots of "storage space".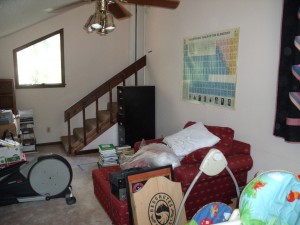 Pic 3: Back to the stairs to the the bedroom. Looking over the railing down to the greatroom. The spiral stairs that provide access to the loft can be been straight ahead.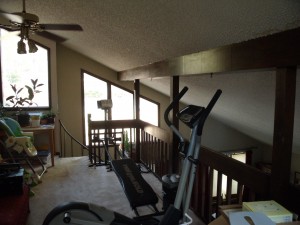 Pic 4: Lots of space up here. Just not a lot of focus on what it would become.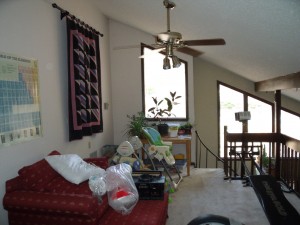 Click here to jump to "Part 2: The Half-wall".
Click here to jump back to the homepage.