Swamp Cabbage Brewing Company is Columbia's third and largest microbrewery.
I've been fortunate to have known the great folks of Swamp Cabbage since their opening two years ago and was honored to have been asked to create a flight deck for their tasting glasses!
The hardest part for me was trying to find a shape that kept true to their branding, while also being able to support the load of four or five tasting glasses.
Then one day while driving home, I came upon a metal sculpture of our State tree..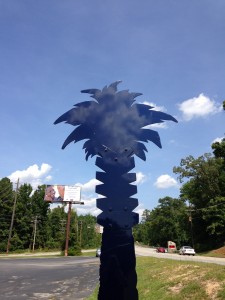 A paddle design was born…..

Off to work!
Here are some pics of both the process and some final action shots.
Congrats to two years Swamp Cabbage! Here's to many more!